---
#GrowSocial17 Updates – Parking, Seating, What to bring etc.
It's almost time for #GrowSocial17.  This is uber important info, so promise me you won't skip it and "get back to it later." You know how that goes…
HUGE reminder: 
This event is indeed complimentary but if you read my other emails we are OVER capacity so it you, 100% without a doubt, want to make sure you have a comfy seat,
you can purchase a seat for just $10. 
** just type in $10 and send it that way with your 1st and last name.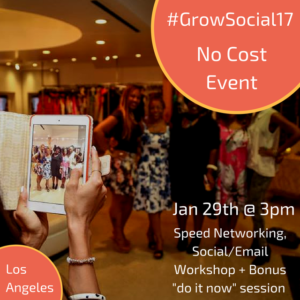 1) Parking is free but you'll need this parking pass – You can CLICK HERE to print it out before hand so you don't have to walk back to your car and put it on. I'll have some at the event but it will save you from having to make a trip if you print it out beforehand. Cool?
2) Look for the white building – The Pink Studio is located across from the Howard Hughes Center and right next to the storage place in the White Building. The address is 6733 S. Sepulveda Blvd, Suite #160. Los Angeles, CA 90045 Go to the back of the white building. We will have signs.
3) Bring these things – your notepad, pencil and business cards. Come ready to network, learn and implement.
4) Please arrive on time – and plan to stay until it ends at 6pm. And again, if you want to guarantee your seat 100%, purchase the VIP seating HERE. Everyone who has already purchased, thank you. Your name is on the list.
5) If you can't come – please let me know. There is a waiting list of people who'd like to attend. And I would hate for them to miss out on a seat.
If you have any questions, just email natalie@nataliegouche.com or text back.