"Do something today that your future self will thank you for."
What a difference 10 years makes! When I had my 1st daughter I was 20 years old in college with no career or business. I remember dreading going back to work at the 3 month mark. As you can see, I got really teary eyed just talking about it in this old video.
I joined a network marketing company in 2008 (a year after my 1st was born) and worked my little behind off! I sat at the foot of my mentors, learned, hustled, took action on everything I soaked up and eventually left my full time job in 6 months when my part time biz income had surpassed what I was making at work. Shortly after I became the youngest west coast president in that company.
All of this while 1) I was working full time 2) Going to school 2 to 3 nights a week 3) Modeling on the side 4) Still single – not married yet and living 1 hour away from my now husband 5) Being a mommy of a 1 yr old
It took a lot of late nights, early mornings, traveling here and there to do showcases when (sometimes) no one bought a damn thing from me and I went home empty handed. But not in vain, I wouldn't change the experience for anything! It built my business muscle.
The internet and social media helped me make that business a success so I started my own social media training and coaching company in 2010 after a year of "unofficially" teaching people what I was doing to make sales online.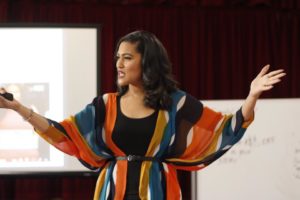 Fast forward to 2018. Pictured here (just 2 months after my 2nd daughter was born) I'm speaking at my husband's event. And in less than 60 days I'm opening back up my signature #MarketMyVision program.
Not because I HAVE to. Because I want to. Because I LOVE what I do. I LOVE what I've built. I LOVE the people I serve and I LOVE my mission.
When I made a decision 10 years ago to join a network marketing company (for something like $389 bucks), please believe I didn't think it would last forever. No MLM does. But let me make this extra clear… I knew that step was going to be the start of a life that would afford me the opportunity to stay home with my child (and future children) and still help people and make a great living. And so it is!
My point to all of this? You don't have to have all of the answers! And you certainly don't have or know how everything is going to turn out. You just need to take a step in the right direction.
And truthfully, you don't even have to know exactly what you want. But you have to know what you DON'T want.
So I ask you… what will you do today that your future self will thank you for?
Share this with someone who needs to hear this and comment below.