🎉Can we STOP for a moment and celebrate my client Artricia and her $9985 win?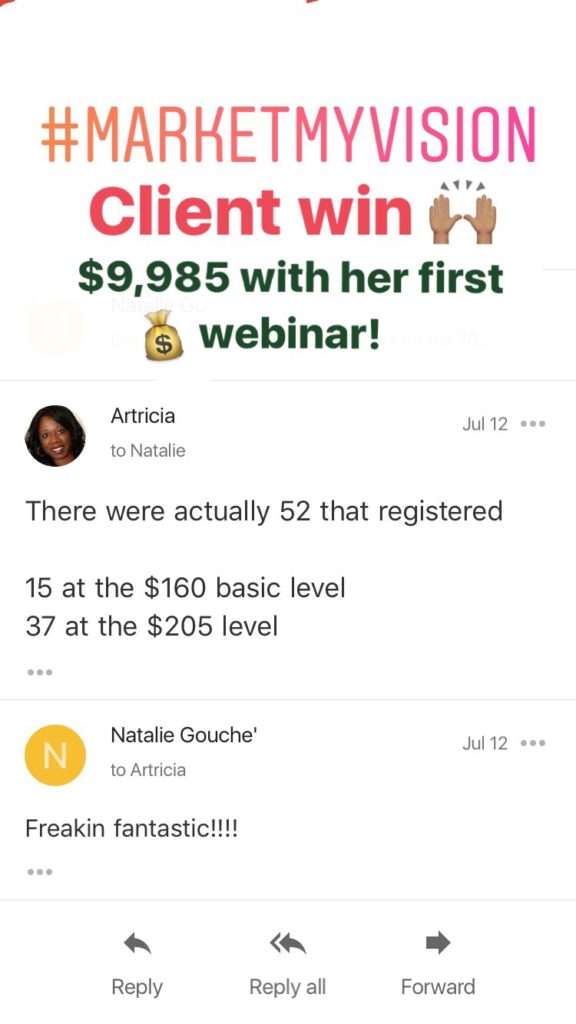 She had 20 enrollments into her program within the first few hours of her FIRST ever webinar. Yup! She had never done one before.
💰And in total sales using the webinar formula, Facebook ads and email follow ups I coached her on… she generated the rest in 30 days just in one income stream (not including the sold out classes she now has).
🙄 I could tell you what I do in my business and some people would roll their eyes and say "Well that's YOU." So I prefer to brag on what I help my clients do instead.
So here is the deal… I wanna create a few more brag stories in the next 8 weeks. Can we do that? Why not you? You've been watching. And there are even more testimonies here: http://nataliegouche.com/testimonies 
📞 I'm doing my FINAL group coaching of the year starting in a few weeks so lets chat. If you have a service or program you want to fill that ranges anywhere from $200 to $5,000 or more.
I only have space for 2 more calls this week. Fill this out http://nataliegouche.com/apply 
Quick details:
✔️ It's ALL virtual so you can be anywhere in the world (you don't have to fly out to CA like my other clients)
✔️ Its an accelerated version of what I do for my private clients in my 6 month program, so there is a significant savings since it's shorter time & with a group
✔️ There won't be another opportunity this year so hop on now
Schedule your time here by applying for a call with me:  http://nataliegouche.com/apply