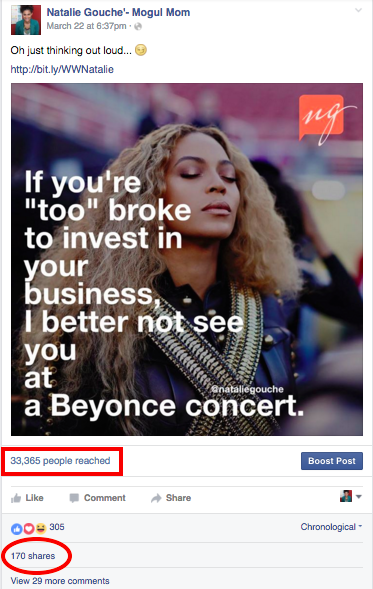 Whether you're a fan of Beyonce or not, you may have heard that stage seats at her concert can cost nearly $3,500! I remember hearing ticket prices and I couldn't help but think to myself, "There will probably be people at that concert who really can't afford to be there, but for the love of entertainment will do what it takes to get there."
With so many people making excuses for why they are where they are (and seeing people beg borrow and steal to get a ticket) I then thought "See? People pay for what they want!" So for whatever reason, months later  I created this meme. And people went crazy! Within the 1st hour there were dozens of shares and ultimately it reached over 33,300 people (and still counting). ORGANICALLY!
Here is a tip: Write what's in your head (okay not all of it) but it's often times the risky statements that make people share your content. Believe it or not,  there are people out there who think like you and wish they could say what you're saying. So instead of saying it themselves, they share YOUR stuff. Get in their head! It's a winning way to viral content.
Now, back to the essence of this meme…
If you know anything about me, you know I believe in investing in your business. I do it myself. From courses, to conferences to the private coaching and group coaching. I do it all. I mean how could I expect anyone to invest me in me or buy my products and services if I don't do it for myself? (Side note: You will not believe how many people I speak to who complain about people but not buying their stuff but they don't even… oh never mind. Don't get me started… that's a whole different post!)
Now, if you want to see the exact opposite of this meme, watch this video above to see some of my positive, passionate and determined clients! They are doing what it takes to see the results they want in their business so last month (Women's History Month) I hosted a private VIP Brunch to honor them. All of my clients couldn't make it, but these are about half of them. Aren't they lovely?
In this bunch there are women who after coaching with me have:
Quit their corporate job
Made $10,000  in 1 week
Doubled their income in 3 months
Tripled their (paid) event attendance and sold out events
Booked their first clients (easily) after doubling their prices
Went from begging for clients to clients begging them
Made nearly $79,000 in 6 months
…and so much more you can read here.
I hope you enjoy seeing successful women celebrate one another. I sure do!
Now, If you're someone who is actively seeking a coach, personalized guidance from someone who has a proven track record for client success, and you're ready to work 1 on 1 with someone who truly cares about their clients… I would be honored to talk with you. BUT ONLY if your committed like these ladies, because you'll get no less than 100% from me. CLICK HERE to apply for a complimentary call with me here. Please note that calls are limited to qualified applicants.
Some FAQ:
1)Do you only work with people in California?
Nope. I have several clients from out of state who fly out to work with me, some choose virtual and I see others while traveling. I've even trained people internationally! There are no limits.
2) Do you only work with women?
No, that's just who seem to be attracted to me business wise.
3) What kind of programs do you have?
I have 30 day, 90 day and 6-month coaching programs available. If your application for a Social Success Discovery Call is accepted, we would hop on the phone (and after I dig deeper into your business) I would recommend the best program for you or see if I'm even the best fit for you and vice versa. I work very closely with my clients so it has to be right for both of us. I'm only committed to working with ideal clients. I do my BEST work with them.
Now that we've got the meme business and the coaching questions out of the way, please share your feedback on the meme, video (or both) below! I know you've got something to say. 🙂