Some people don't get the real long term impact of social media. There is a huge emphasis on "right now sales" and while that concern is totally legitimate because we all want sales right now, there is much to be said about your internet lurkers. You know, the ones who watch you,  don't "like" your content and rarely ever comment? Oh trust me; they are watching you.
Waiting until the perfect moment to hire you.
Waiting to see if you're consistent. (Because, let's be honest, there are a lot of folks who are here one minute, gone the next.)
Waiting to see if you are who you really say you are and if you can do what you say you can do.
So what about those people? How do you pull them in? Just keep doing what you're doing! That's right. Simply by you staying the course, you're already head and shoulders above the rest.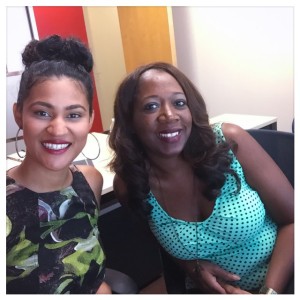 My (now) 90 Day Coaching client Artricia (Real Estate and Mortgage Trainer) was introduced to me me years ago. I mean like when I was first starting out in 2010 and my prices were embarrassingly low… like too low to list here! lol
Throughout the years Artricia sent several people my way and even commented every now again on my social posts. But we didn't work together.
Side Bar: Don't count people out just because they haven't bought from you… yet! Some people never will but they will be your brand ambassadors and spread the word about you. Believe that!
So like I was saying. We didn't work together until a few months back while coaching another client in the real estate industry, I posted a photo on Facebook and Atricia said to herself, "Okay, that person is in real estate too. Natalie can coach me too."
My whole point to this post is to let you know to KEEP GOING! Even when you don't have 20 comments on your post, or 150 hearts on your Instagram update. Just keep going.
You're in this for the long haul right?
You're working on and in your business daily right? Then show people what you have going on!
One of the reasons I get so many applications online to work with me is due to the fact that I am constantly posting: Stories about my clients, their success, their struggles before working with me, their testimonies and more.
I want my social media audience to know I'm helping people get results. What do people want? RESULTS!
Here is my challenge to you my friend. Post at least once per day on your social network of choice. Try some of these for starters:
A helpful tip or trick that people can do on their own
A client testimony
Behind the scenes in your business
A relevant article (could be yours or not)
Need more ideas? Download #31DaySocial Try this out and let me know how it goes for you okay?
While you wait for that to hit your inbox, check out Artricia's testimony from our coaching intensive.
You can read the rest of Artricia said about our 1 on 1 coaching intensive,  but THIS is what really touched my heart after our day together.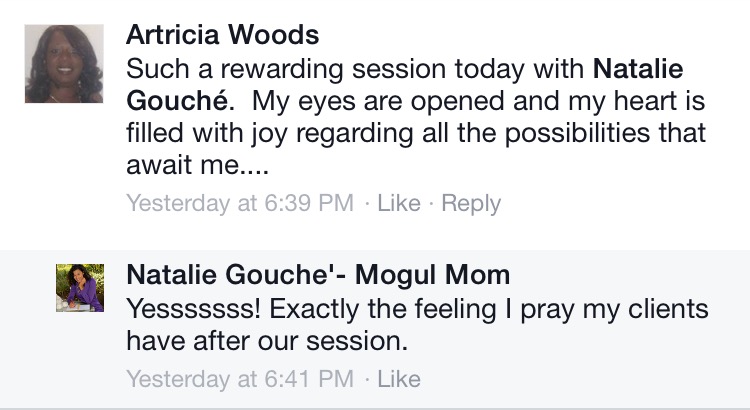 "My biggest challenge before working with Natalie was the fact that I had no structure, no marketing plan and no focus. I knew were I wanted to be, but didn't have the steps to get there.
I was standing in my way with procrastination and fear and during my coaching intensive with Natalie I learned more about my self worth.
You know how they say, "Once you know better you do better?" Now there is no more hiding behind what I don't know. I am walking away with an action plan, a clear vision and the steps I have to takes to get where I want to be. And I have the support!
A lot of times people go to workshops (and things like that) and if they don't get what they went for they just miss it. That's not the case here. I now have someone to approach and coach me when I need help."
– Artricia, Affinity Real Estate & Mortgage Services