I know the photo is blurry but read on…
Today is my baby girl's 8th Birthday. HAPPY BIRTHDAY LOVE!
This photo is from 2011.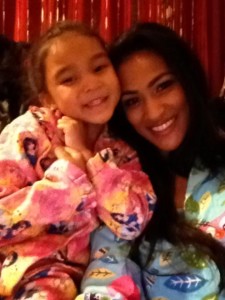 We are all smiles but what people don't know is that this photo was taken when we (my husband, daughter and I) had just moved with my mother in law because we were broke and couldn't afford to stay in our place. 2 self employed parents at the start of their career is no joke, Moguls!
My daughter (bless her heart) didn't realize what was going on.
All she knew is that mommy and daddy were sleeping on a comfy little day bed from Ikea. VERY close and comfy. 🙂
This child inspires be to be my best because I know she is watching. I look at this and smile because it reminds me that even when times get tough, there is a light at the end of the tunnel. And yes, you can smile in the midst of it all.
God was always on our side. (You've probably heard the story) My business picked up tremendously, my husband crushed it as a mortgage banker, we bought a home in 2013 and haven't looked back.
Today is a special day.
The day my beautiful daughter was born and the day I also birth a new program called "Market My Vision."
Who said Friday the 13th wasn't a good day? 🙂