It's that time again!!! As you know I LOVE supporting small business owners and I encourage everyone to do the same when it comes to shopping. Think BIG shop SMALL!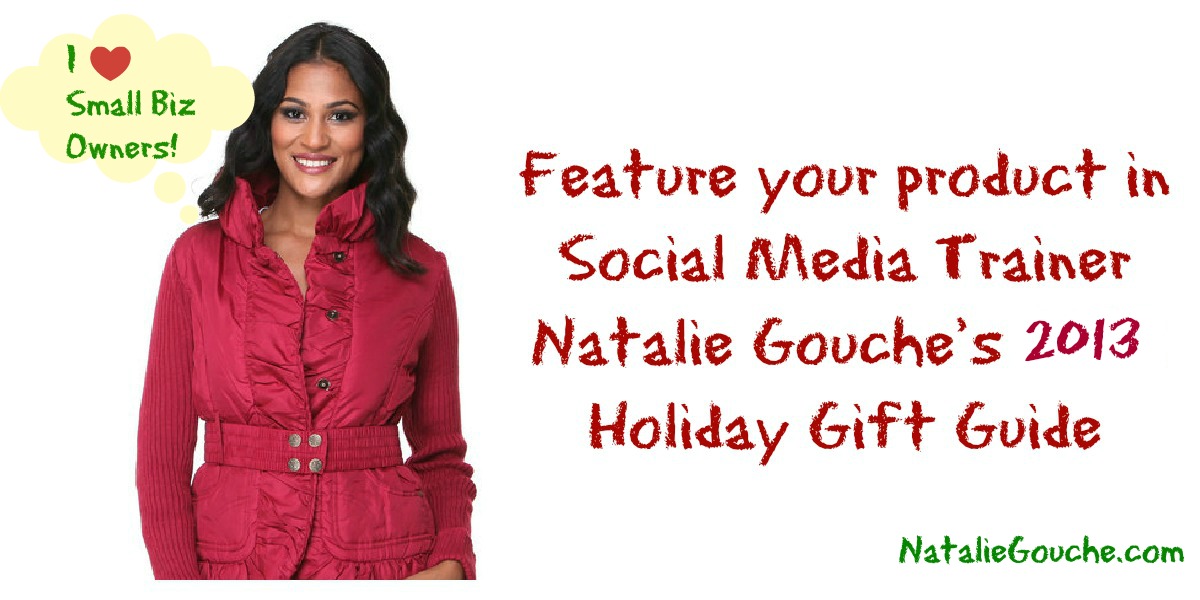 For the last few 3 years I have done a gift guide for almost every major holiday including Mother's Day, Father's day, Valentine's Day and of course Christmas. It's such a joy for me to present small business owners to my network each and every year.
My Holiday's Gift Guides have created massive buzz online via social media and  Google! They have even gotten picked up on sites like The Street with readership and social reach in the hundreds of thousands! And biggest and BEST of all, the Holiday Gift Guides have helped small businesses get sales, new clients and online brand awareness.
I am doing a 2013 Small Business Holiday Gift Guide and I'm looking for:
Health
Wellness
Beauty
Fashion
Jewelry
Entertainment
Kid/baby stuff
Personal care
Personal development
Gourmet food
+ Anything else great for the Holidays
**Note: Your business can be anywhere in the world but you MUST have a website where people can purchase from. The ONLY exception will be to my "L.A. Local Favorites" section.
Incentives for you:
Gaining exposure to my network (over 30,000) of professionals, raving fans & clients! Trust me, they rock…HARD!
Exclusivity (you will be the only kind of your product in the guide) Hurry and submit!
Increased followers on Twitter! You will be mentioned in promotional tweets from @NatalieGouche
Increased Traffic to your website (It will be listed in the guide) and promoted everywhere!
Increased "likes" on your to Facebook Page (promotional updates on my fan page and more)
Guide will be featured on NatalieGouche.com + Several Email blasts to over 4,000 subscribers.
Link to the guide will be featured on my YouTube Channel with over 44,000 views and 1000 subscribers. You know I LOVE to do videos so I will be posting that bad boy everywhere!
Submit your application to be considered! 
The cost is only $49.97 and the deadline to submit is Friday, November 15th!
** If you are selected (meaning you have confirmation from Natalie or her team) please submit $49.97 to Natalie@NatalieGouche.com or pay here.