1st off what is social proof? Wikipedia defines it as "informational social influence". It's is a psychological phenomenon where people assume the actions of others reflect correct behavior for a given situation. Plain speak: Folks will do what others do and assume actions when influenced by others in their social space.
So how what does this do for your business and how will it make you more money? Here are a few things to think about:
People now (more than ever) want to see what others think about your business. Long gone are the days where you can say you are the best and people listen. They need social proof. What's better, you talking about how great you are or letting other people talk about how great you are?
Social media is all about being social! People exchange advice, comments, feedback etc. on just about everything. Don't you want to be in that social conversation online?
Lastly, some of your clients/prospects who haven't bought your product or service (for some reason or another) now have the ability to see the work you are providing for others. Do you think that influences their opinions about you? You better believe it!
So how do you create social proof in the online world?
Create massive value for prospects and clients
Provide great customer service
Have a call to action in your daily workings, webinars, receipts etc. (ask your customers to write reviews if they are satisfied & ask them to share your social profiles with their friends)
Truth be told…if you are truly phenomenal about what you do your clients will be good and ready to give you amazing reviews before you even ask!
Just starting a business? If you have no social proof from clients yet, use articles on the internet to show the need for your product or service. Example…if I was just starting in social media and had no paying clients I would find an article like this to show why my service is needed so much in the business world.
P.S. Below is a photo from some of the comments I got from my Facebook Fan Page marketing webinar/event last night. This is social proof folks. Sad you missed it? You can purchase the recording, video tutorials and Fan Page checklist below.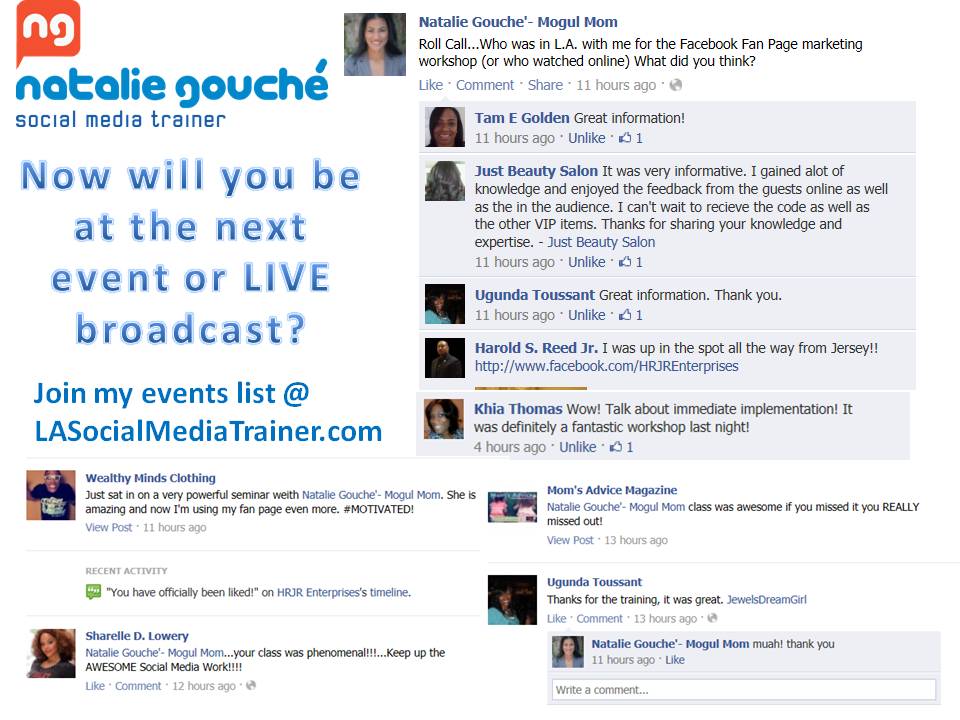 If you attended the broadcast last night and want to take advantage of $100 off my online training special click below. The price is only $50.00 until Friday the 2nd. You will get an evaluation of your social media presence, a checklist of things to do, training on any topic and video tutorials with follow up notes all for $50…that's insane!
The Facebook e-Book will be release on 3/9. You can pre order below. "Small Business = Big Business on Facebook" will cover all of the things we didn't cover in the Facebook Fan Page workshop: Personal profile marketing, groups, Facebook ads and creating a strategy.